If you live in central Blackpool, chances are that you have either a very small garden, a yard (yarden) or no garden at all, such is the environment of FY1. However it's still possible to grow a variety of fruit and vegetables in the smallest of urban spaces.
My house has the tiniest of outdoor spaces. The front garden has no more than about 1.5 to 2m2 of soil, the rest is a small concrete area which serves as a home to my grey bins and a sunning deck for the neighbourhood cats. About 5 years ago, I had a huge surprise and noticed that after the annual host of bluebells had died back, a number of gangly green shoots were pushing their way through, spreading their wide leaves as though they were cartoon characters taking that first yawning stretch of the morning. I soon realised that these were raspberry plants and they had come to stake their claim on the limited space. I can only imagine how they arrived, they most likely came via the digestive systems of the many magpies and wood pigeons that frequently wake me up with their early morning cackling and cooing – who needs an alarm clock when you have an avian chorus perpetually set to 6:30am?
So fast forward to today, I currently have too many plants to count – they've even tried to escape into the cracks on the pavement. Raspberries grow best in full sunlight, so my south-facing front garden has provided ideal growing conditions for their Day of the Triffids-esque takeover. Every July and August the fruit is abundant, we're talking 1.5 – 2.5kg of huge fragrant, deep amaranth-hued berries per week.
So what can you do with all of that fruit?
Well of course you can eat it au naturel, but how do you trap that sunshine for later on in the year? The practice of food preservation is as old as the hills and raspberries are incredibly versatile. There are so may recipes for puddings and desserts, so it's always a good call to keep raspberries in the freezer. Just make sure that the berries are clean, separated and frozen on a tray. Once frozen, you can transfer them into more space-efficient containers. Freezing separately means that the berries maintain their shape, you don't always want an indeterminate mass of scarlet mush.
Raspberry jam will always be a traditional favourite, but my store cupboard is already packed with jars of damson jam – the result of a bumper crop at a friend's farm.  This year, I'm heading down the boozy route.
Raspberry gin liqueur
This is incredibly easy to make and keeps for ages. It also makes a brilliant gift, if you can bear to part with it.
Ingredients
500-750g raspberries Use the freshest and ripest raspberries that you can. Using home grown will always give you a fuller, fresher flavour than supermarket berries that have clocked up the milage, but you can still make a pretty great gin liqueur if you pick out firm ripe whole raspberries.
1 litre gin If you have fancy-pants, expensive speciality gin, this is not the time to use it. There is absolutely no point in adding what can be quite a strong flavour to something that has been expertly and often subtly blended. Your best bet will be a decent supermarket gin, I used Hollow & Bourne London Dry Gin from Sainsbury's which comes in at £15.40 for 1 litre and is suitable for vegans.
5 tablespoons caster sugar This helps those berries to mellow out, turning the tart raw alcohol taste of the gin into a smoother liqueur. Remember that the sugar content of every batch of raspberries is different. This amount of sugar is just a starting point, you can always sample the gin further down the process and add more sugar if you prefer.
Equipment
Kilner style jar 1.5 – 2 litre capacity (you split the batch and use smaller jars), it must have a strong seal. Make sure it's sterilised.
Funnel
Bottles for the finished product. These need to be sterilised too.
Muslin or cone coffee filter papers to strain the liqueur. Kilner does a

sloe gin set

which contains the 2 litre infusing jar and 4 mini bottle, it also includes muslin cloth, funnel and recipe. It's currently on offer from Lakeland at £14.99.
Method
(15 mins)
Wash the raspberries and discard any bad fruit.
Place raspberries in the large Kilner-style jar or divide them equally between the smaller sealable jars.
Slowly add the gin, we don't want to dump it in and break up the berries. If you're using multiple jars remember to put an equal amount in each.
Add the sugar and seal the jar.
Gently rotate and tip the jar to distribute the sugar throughout.
Store the jar in a cool, dark place for a minimum of 10 weeks. I usually leave it for 3 months to a year, but do beware that the gin's flavour mellows significantly but remains very boozy.
To bottle, line your funnel with the muslin or coffee filter paper and carefully pour or ladle the gin liqueur into the sterilised bottles.
Tips
I've given a range of weights for the raspberries and the sugar as this depends on what sort of taste you prefer.
Continue to rotate and tip the jar few days until the sugar is dissolved. Resist the urge to shake it the jar as this will cloud the gin with the with tiny hairs and other bits from the berries.
At about 8 weeks in, make sure to taste the gin. If it needs extra sweetness now is the time to admire sugar.

 

Do this sparingly because you can always add more later, however you can never take it away.
Keep your gin liqueur away from light, unless the bottles are opaque or darkly coloured as this will maintain the colour of the fruit.
You might want to add a label with the date and raspberry:sugar:gin ratio. This means that if you make a particularly good batch it'll be easy to recreate.
The finished bottled liqueur will last for up to 2 years. Again, try to store them in a call dark place as this will preserve the colour and flavour.
For alternative flavourings add these optional extras to the jar:

Raspberry and lemon: add the peel of half an unwaxed lemon.
Raspberry and vanilla: add a stripped, halved vanilla pod.
Raspberry and rose: add a few drops of rosewater and/or 2 tablespoon of rose petals or buds.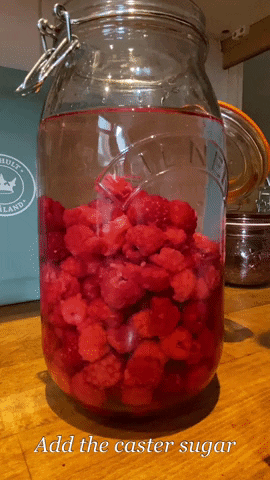 If you're not that into gin, you can replace it with vodka. You can also follow a very similar method to make raspberry vinegar, which is a lovely way to spruce up a salad dressing.
Give it away
If you have a glut of fruit or vegetables, there is always someone who will gladly take it off your hands. Food supplies are always welcome at projects such as Amazing Graze who make free meals for those in need. However, it's a good idea to contact them first as there may be other things that they need more urgently.
The Olio app is a great was to share excess food. Olio connects neighbours with each other and with local businesses so surplus food can be shared, rather than thrown away. This could be food nearing its sell-by date in local shops, spare home-grown vegetables and it can also be used for non-food household items too.